A citytrip to Rome has long been a great wish of Dominik. He wanted to see the locations from Latin lessons in real. I, Kathrin, have already been to Rome with my mum a few years ago.
To avoid the crowds of tourists and hot temperatures, we chose November as time of travel – and that decision proofed to be absolutely right. The eternal city has spoiled us all the long weekend with sun, pleasant temperatures around 15 degrees and relatively few tourists, so our citytrip to Rome was a big success.
Citytrip Rome: Airport transfers from Fiumicino Airport to the city
There are a number of transfer options from Fiumicino to the city centre:
The Leonardo Express offers direct train service between Fiumicino Airport and Termini Station/Central Station in downtown Rome. It runs every 15 to 30 minutes and costs €14 each way and person.
Pro: This option is completely independent of road traffic. The journey time is 32 minutes without stops.
Contra: You have to pay for the onward journey with Metro or similar (if your hotel is not close to Termini Station).
Another alternative is the regional train.
Pro: The trip costs only a few euros.
Contra: The train stops at every single train station. The journey takes approximately an hour.
We chose the door-to-door-shuttle service .
The service costs €15 each way per person. The comfortable minibus offers eight seats. The duration of the transfer depends, of course, on the location of your accommodation and the number of other passengers.
Pro: We arrived at the accommodation very relaxed - no extra trips or costs. You can book the return journey easily via WhatsApp a day in advance.
Contra: The minivan takes a maximum of eight persons to the city. If you're unlucky, your accommodation is the last stop and the transfer takes a little longer.
Otherwise bus and or taxi service is available as it is in every other city.
Citytrip Rome: Culinary experience
Almost every corner is home to fast food outlets, restaurants or bars. Sometimes more expensive, sometimes cheaper. The price of the food is always dependent on the distance to the next tourist attraction. So if you are hungry, try to get away from the main highlights as far as possible, so the food will increase in quality and decrease in price.
Rome is expensive in general. You rarely get an Aperol Spritz or a small beer for less than €7 in restaurants.
We have a really good tip for you:
Our favourite food supplier during our citytrip to Rome was a small fastfood pizzamaker called "I love Pizza" and is a 5-minute walk from the Vatican or Ottaviano Metro Station. The shop has quite cool pizza creations that are rarely found elsewhere. The pizzas are amazing in taste and crispiness. We didn´t get better Pizza in any traditional pizzeria.
The price depends on the weight of the piece. Price-performance ratio is outstanding and difficult to compare with other restaurants.
Auf dem Weg vom Pantheon zum Petersplatz haben wir eine kleine Schlemmerstraße entdeckt. Die Via del Governo Vecchio. Dort gibt es einen kleinen Laden, der süße Teilchen und verschiedenste Arten von Tiramisu in kleinen Bechern verkauft. Das müsst ihr unbedingt probieren. Das haut euch aus den Socken. Wir hatten das Pistazien- und Peanutbutter-Tiramisu und die waren richtig lecker. Tipp: Hast du davor gegessen, reicht der kleine Becher allemal. 😉
There are two neighbourhoods in Rome that are known for good food, delicacy shops and markets. They are called Testaccio and Trastevere. If you want to do a food tour by yourself, note that most stores are closed on Sundays.
For our next citytrip to Rome, we definitely take part in a guided food tour.
Public transport during your citytrip Rome
The Metro is the most convenient and easiest means of transport. You can buy single rides, day (7 €), two-day (12.50 €) or three-day tickets (18 €). If you have the Roma Pass (48/72 h), public transport is included. Public airport transfers are not included.
In the inner city area, all major sights are within walking distance, if you like walking and having comfortable shoes with you, that shouldn't be a problem either.
Of course, we came to Rome to see the sights of the ancient city. So we chose the Roma Pass [ad], which includes free or discounted admission to many museums and attractions in Rome. For example, Colosseum and Roman Forum - major highlights of every citytrip to Rome - are included. The Vatican is not included in the Roma Pass.
A huge advantage, however, is the included public transport ticket for the city of Rome. Airport transfers are not included.
Financially, the Roma Pass definitely makes sense. Information can be found on the Turismo Roma website. Check out their Instagram-Account for an impression of Rome.
We have chosen a guided tour in the Vatican Museums, St. Peter's Basilica, St. Peter's square and the Sistine Chapel.
Our guide Val was a walking lexicon. We recommend to book a guided tour. You just can't process all the information you get on a tour through the Vatican. Val kept pointing out about hidden details, telling anecdotes and legends about popes, Michelangelo or Raphael. Really amazing.
Even though we are not actually considered great art lovers, the Vatican Museums absolutely flashed us. This incredible story is simply the amazing and a mega highlight of any citytrip to Rome.
A big plus of this guided tour is that you can skip the queue at the ticket offices.
Click hereto book the tour with GetyourGuide.
The Colosseum – a highlight of any citytrip to Rome. We unfortunately made the mistake and didn't book a tour in advance, but wanted to explore it on our own.
But at the entrance, a tour operator talked to us, joining his tour. 45 minutes Colosseum and 45 minutes of Roman Forum. Unfortunately, far too short to get a proper impression. So, inform yourself in advance and look for a suitable tour with good reviews that fits your thirst for knowledge. If no one tells you anything about the Colosseum or the Forum Romanum, you will only see a huge collection of stones.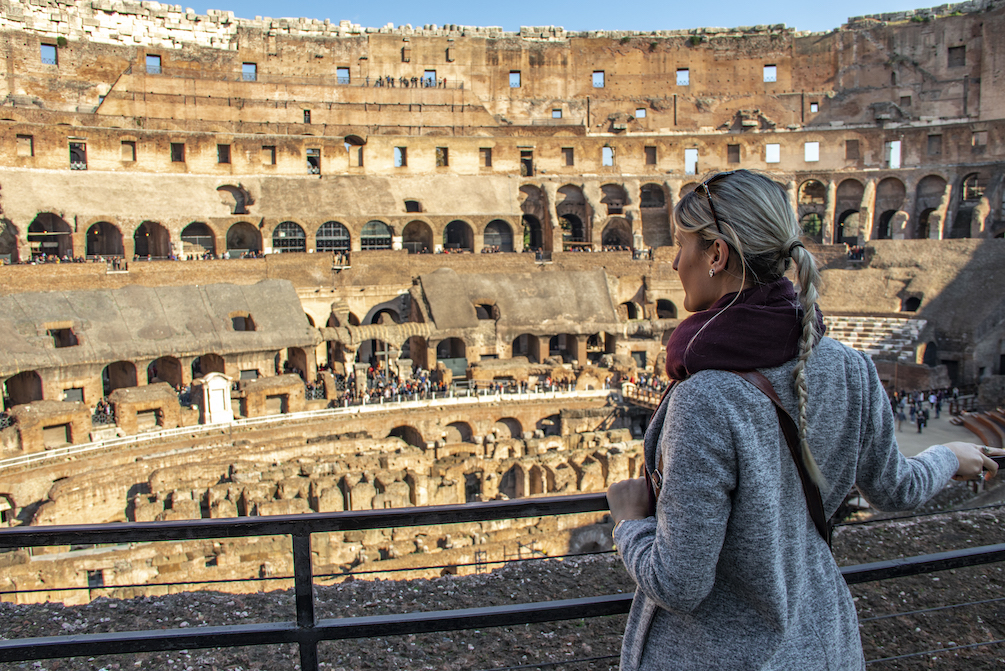 The Palatine is one of the seven hills of Rome. This is the place where Rome was founded in 753 BC.
Entering this ground is already truly unique.
North of the Palatine, the legendary Roman Forum is located. The buildings are partly ruins, some incredibly well preserved considering they were built nearly 2,000 years ago.
In the western part the old Senate is located – the place where the world´s most important decisions were made at that time. Caesar was murdered there.
Walking through the Roman Forum while birds are whistling, you really feel like beeing in the middle of ancient Rome. Don't miss this. Here's a tour that brings you closer to the magic of the Roman Forum.
Other highlights of the citytrip to Rome
Other typical stops of a citytrip to Rome include Villa Borghese Park, which is perfect for a nice walk or the Spanish Steps, which doesn´t deserve its fame in our opinion. It's just steps.
The Trevi Fountain is also beautiful, but always crowded. The best time to visit the fountain is late evening.
The Pantheon is really spectacular and huge in size.
Other posts you may be interested in: