EXPERIENCE REPORT ON THE SUUNTO D5 DIVE COMPUTER
Our recommendation for your dives
Diving is the most beautiful pastime for us nowadays. But let's go back to 2018, when it all began. When I was on vacation, I was always tormented by this uncertainty. The sea was gorgeous and I could only go ankle-deep in the water. How so? I've always been terrified of sharks in the water just waiting to tear me apart. Yep, those were once my ideas about Hollywood and the boulevard.
At some point Dominik forced me to finally try snorkeling and I still thank him regularly for that. From then on I didn't want to go into the water without a mask. Unbelievable what animals there are on the reef. But even at this point, I still stayed near the shore.
When Dominik and I got together, he had had his diving license for 10 years. For my birthday, I received a voucher from him for participation in a diving course. He wanted to finally share his hobby with someone. I have often asked myself the question: Do I dare or should I leave it?
In May of the same year the time had come. I looked for a PADI certified diving school on Gili Trawangan (a small island in Indonesia) and took part in an Open Water Dive course.
After the first dive, I thought: "WOW". Snorkeling and diving are two completely different experiences. After every dive I beamed in both ears. We suddenly saw travel destinations with completely different eyes. Despite the newly gained self-confidence underwater, I still remained a control freak.
On the last day of my Open Water Diver training, I dived with an older model of a Suunto dive computer [ad]. From that point on, I didn't even want to dive without a computer. And that's why we bought the Suunto D5 dive computer in[display]. From that point on, I didn't even want to dive without a computer. And that's why we got the Suunto dive computer D5, which I would like to introduce to you in this article. Suunto kindly made the new D5 available to us. We had the Suunto D5 on ours for the first time in Raja Ampat. Since it was the latest model from Suunto at the time of the trip, all the dive guides and the other divers envied me for it ;-).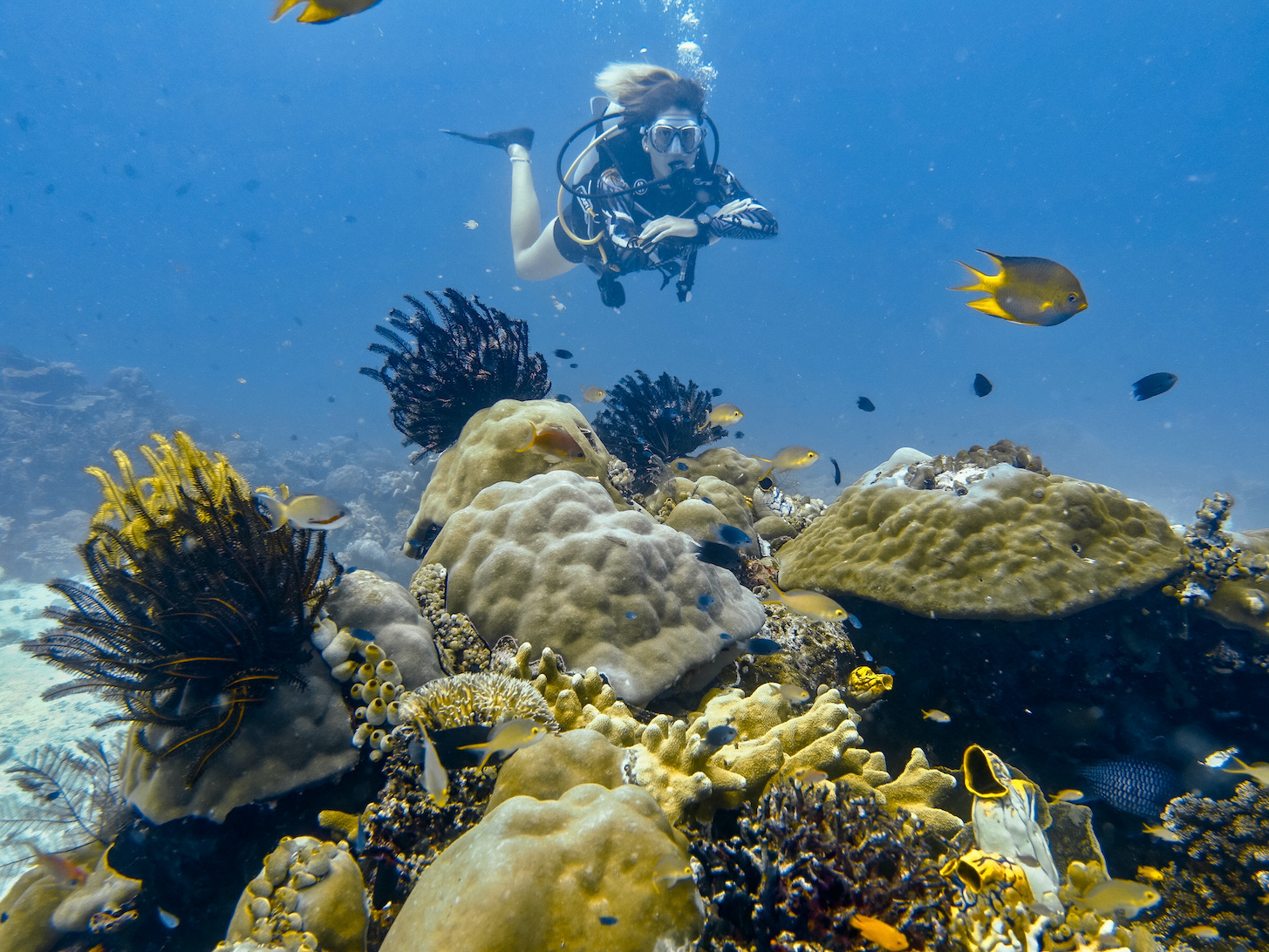 SIMPLE OPERATION AND DISPLAY - SUUNTO D5 DIVE COMPUTER
The operation of the D5 is really self-explanatory and super easy. The display can be easily personalized. For example, I like to keep an eye on depth, dive time and temperature during a dive.
Alternatively, at the push of a button, I receive information on maximum depth, cylinder pressure, gas time (only in conjunction with Suunto Gas Pod) or gas change. In addition, the D5 warns me of a too fast ascent, violation of decompression limits and violation of deep stops.
When I have reached a depth of 5 meters when surfacing, the watch automatically starts the safety stop and counts down the three minutes to the second.
The compass is always shown on the main screen and the color display can be clearly read underwater.
According to the manufacturer, the Suunto D5 works flawlessly at depths of up to 100 meters.
The case of the dive computer is made of reinforced composite material and the wristband is made of silicone.
It is really cool that the silicone strap can be changed very easily, so that you can easily create a new style. The ribbons are available in different materials and colors. Perfect for any occasion ... at least a woman would say about water.
The D5 is powered by a rechargeable lithium-ion battery. The battery lasts in dive mode for approx. 3 to 4 dives, after which you simply recharge it with the charging cable. In time mode - that is, when used normally as a clock - it lasts about ten hours. Due to the outstanding classic timeless design, you can easily wear the D5 as a watch.
In addition to the cool design, the current Suunto also impresses with its very functional display with time, temperature, duration of the no-fly period after diving, date and day of the week. A stopwatch function is also integrated.
MY OWN DIVE PROFILE - SUUNTO D5 DIVE COMPUTER
The coolest thing I find is the function that you can view your diving profile after diving. I am still a hard-working logbook writer and I enjoy being able to fill out the fields on my own and no longer have to rely on the dive guide. The dive profile shows, among other things, average depth, dive time, entry and exit times and temperature.
Back on land, I can connect the dive computer to my mobile phone via Bluetooth and the Suunto app. The dive profile is also transferred. Actually, the app is already a small digital logbook ;-). The D5's memory can hold up to 200 hours of diving or 400 dives, whichever comes first.
CONCLUSION ON THE SUUNTO D5 DIVE COMPUTER
I am very happy with my new dive computer and could not discover any disadvantages during our diving trip and look forward to further dives with it.
We hope you made your decision easier with our review of the Suunto D5 dive computer .
Other posts you may be interested in: