Sai Daeng Resort Koh Tao ♦ Thailand
Location and Getting to Sai Daeng Resort, Koh Tao
Sai Daeng Resort [ad] is picturesquely situated on a rock in the southeast – the quiet side – of Thai island of Koh Tao. You can get to Koh Tao by ferry either from the coastal town of Chumphon or via Surat Thani, Koh Samui and Koh Phangan. Of course, you can also fly to Koh Samui and then travel on by ferry or speedboat. We have had only good experiences with the ferry company Lomprayah [ad].
If you arrive at the Pier of Mae Haad in Koh Tao, look for "Counter number 9 – Sai Daeng Resort." The resort guys will welcome you, proceed your luggage and take you to the resort by pick-up car. The ride takes about 15 minutes
When booking, make sure to opt for a room with a balcony and sea view on Sai Daeng Beach. The view of the bay is truly awesome.
The hotel consists of four zones: A to D. We think you should take a bungalow/villa in Zone A, if possible. You will need to walk some meters and steps every day, but the view and the tranquillity are worth any effort.
Culinary offer
Breakfast is served buffet style at the beachfront restaurant. There are various fruits, bread, toast, croissants, sweet pastries, salads, freshly prepared egg dishes, many Asian dishes such as dim sum or soups as well as filter coffee, tea and juices. Overall, the breakfast offer is more likely to hit the Asian palate. If you have to leave early in the morning due to departure, day trip, diving or whatever, Sai Daeng Resort will prepare takeaway breakfast for you on request. They pack milk, water, sandwich, egg and bananas.
Uncle Soon's Restaurant is available to guests throughout the day and offers international à la carte dishes. The location of the restaurant directly on the white beach is fantastic, but prices are a little higher due to this fact.
Enjoy cocktails and other drinks at the pool bar with a view. Sipping a cocktail in the breath taking infinity pool at sunset, that is what holiday is all about.
The minibar in the rooms is well equipped. Soft drinks, beer, water and whisky are always at hand.
Activities at Sai Daeng Resort, Koh Tao
As a hotel guest, rent snorkelling equipment at any time free of costs and explore the reef of Sai Daeng Bay or in Hin Ngam Bay beyond surface. The corals close to the beach are unfortunately quite damaged. A few meters further out, you´ll see great corals, many fish and some completely harmless baby black tip reef sharks. However, please, do not step on corals or rocks, when snorkelling on a beach with a reef. It is very important to only step on sandy patches. Even seemingly dead corals could be about to recover. Therefore, don´t step on dead corals either.
At Sai Daeng Beach, there is also a good diving shop called CV Divers [advertisement], which we encourage you to visit. Nice guides and good gear. The big plus is that the CV Divers time their dives in a way to avoid the crowds. We had a guide to our own every single dive. We can only report positive things.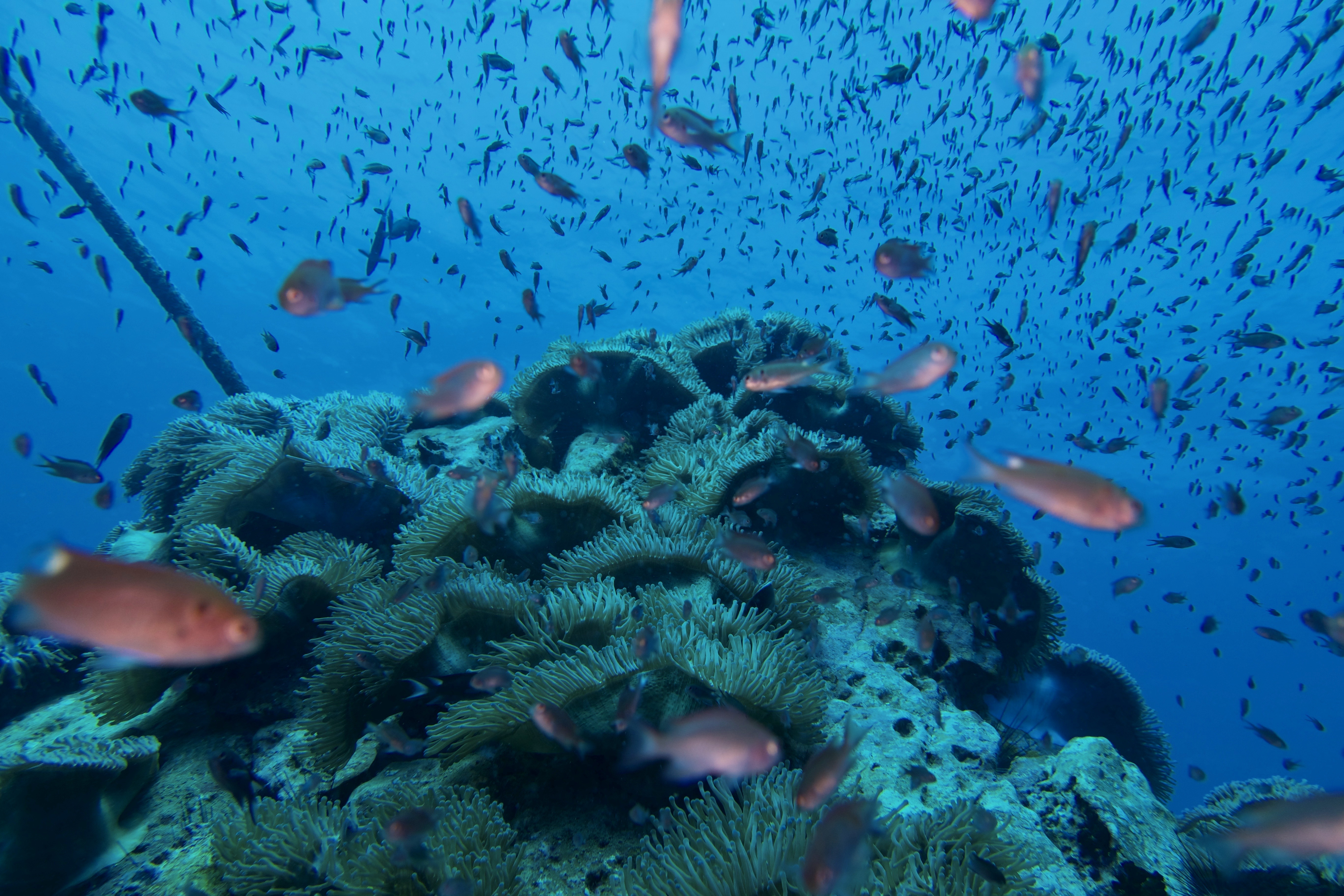 Also rent kayaks for free and explore the nearby bays or the rocky coast of Koh Tao. Really a great experience.
The white beach with comfortable loungers is also ideal for relaxing. There are no parasols, but there is enough shade through the trees.
Of course, spending the day at the pool is always a nice option. On top of the hill, where Sai Daeng Resort is located, a stunning infinity pool is waiting with stunning views of Sai Daeng Bay.
The SPA was just under renovation during our stay, so we cannot tell you about it.
Sai Daeng Resort also offers its guests free shuttle transfer to Mae Haad near the pier. So you can do some shopping in the evening or go out for dinner in the village. For 50 Baht surcharge, the shuttle taxi drops you in Sai Ree. But beware: There is no return transfer from Sai Ree to Sai Daeng Resort. Therefore, you either have to take a walk back to Mae Haad (about 30 minutes) or take a taxi back to Mae Haad (300 – 500 baht).
Always sign up for the shuttle service in advance, because space is limited. The walk from Sai Daeng Resort to Mae Haad takes about an hour.
Sai Daeng Resort is also happy to help you renting a scooter.
Equipment and design
The hillside villas blend perfectly into the countryside due to the construction of exposed concrete and wooden bamboo. The whole design is perfectly matching our taste. The size of the rooms is generous. The balcony is huge and comes with bamboo lounge furniture. Inside the room, a small cosy lounge corner invites to relax a bit. A large comfortable double bed with good pillows and a mosquito net, which we never needed, ensure a restful sleep. Reasonable air conditioning and a refrigerator make sure, to always keep refreshed perfectly from inside and outside.
Each room has its own Wi-Fi. The speed and range are outstanding. There is also good reception everywhere in public areas.
The staff is incredibly friendly and courteous and quickly and reliably finds a solution for every request.
Conclusion on Sai Daeng Resort in Koh Tao
At Sai Daeng Resort, everyone will find joy and fun. Be it chilling at the pool, sunbathing on the white coral beach or snorkelling and kayaking above or beyond surface – time flies at Sai Daeng Resort.
Above all, its location and design make Sai Daeng Resort on Koh Tao an amazing resort that will stay in our minds for long time.
A recommendation for the lovers of sunrise and sunset at the end: Both sunrise and sunset - albeit only indirectly - can be enjoyed at Sai Daeng Resort. You´ll find the best spots quickly. In order to be able to really enjoy the resort on Koh Tao, we recommend a stay of at least five days, because it takes some time to get there by ferry.