Currency
Uganda Schilling (UGX)
Language
English, Swahili
Inhabitants
42,86 Millions
Price level
$-$$
Uganda travel guide: Travel to pearl of Africa and do a Uganda Safari
All information given are the best of our knowledge and belief and were correct the time we travelled Uganda.
What we knew from Uganda, when first thought about traveling there, was that it´s one of the last places in the world where mountain gorillas can be seen in their natural habitat. Our first idea was to do 3-day fly-in Safari to Bwindi. So enter, mountain gorillas and exit Uganda. But the more information we gained about Uganda, the more we wanted to see of it, which was not so easy, because blogs and vlogs (click here for our Vlog) about Uganda are quite rare. At some point we found some videos on YouTube [Ad] and they blew us away. So we were looking for tour operators in Uganda and found HomeToAfrica [Ad]. Click here for our experiences with them.
Despite everything, it was a trip into the unknown for us. Though our joyful anticipation raised every day and we experienced these "wow" moments from the first day. This country is commonly said to be the Pearl of Africa and it´s true. It is so multifaceted and beautiful.
Of course we informed about safety in Uganda. If you here about African countries in the European news, it´s only bad things like Ebola, rebels in the neighbouring country Congo etc. But when we arrived, we didn't feel any of it. The borders to Congo are protected by soldiers. Our safari guide gave us a sense of safety, so we felt perfectly comfortable and safe during our 8-day Uganda Safari.
Airport Uganda
The only international airport in Uganda is located in Entebbe. There are many small airstrips for small aircrafts throughout the country.
Entry and Visa for Uganda Safari
You have to apply for a visa online some time in advance. The following documents should be available:
• passport copy
• passport photo
• vaccination certificate with confirmation of yellow fever vaccination
The visa for Uganda costs 50 USD (+ 3% online payment fee) and must be paid online.
You have to show the vaccination with the yellow fever stamp during immigration procedure.
According to the website, the following documents are necessary for immigration: Passport photo, passport and copy of it, flight tickets. The immigration officer is making a photo during the immigration procedure.
After immigration, you will enter the baggage claim area. There are money exchange offices, as well as a mobile phone SIM card provider. The ATM is located outside this area.
After a last security check you leave the airport. Outside there are more ATMs (only Uganda Schilling/UGX), SIM card providers, hotel shuttles or taxis.
Departure Uganda
Vehicles and people are subject to a security check on arrival at the airport's external premises. Further baggage and security checks are carried out at the entrance of the airport building, after immigration and before boarding.
Souvenir shopping at the airport
As anywhere in the world, the souvenirs at the airport are overpriced. We bought our souvenirs in Queen Elizabeth National Park. We have always left the negotiations to our guide, who was visibly enjoying it.
Health precautions for the Uganda Safari
The yellow fever vaccination is obligatory, because without proof you are not able to apply for the online visa at all.
We already had the following vaccinations from previous trips, but they are not required by law:
• Hepatitis A/B
• Meningococcal diseases
• Cholera
• Rabies
• Typhus
Since Uganda is a high-risk malaria area all year round, we opted for malaria prophylaxis (Malarone).
Withdrawing money/ATMs in Uganda
Pick up enough money at the airport, because in Uganda ATMs are scarcely sown.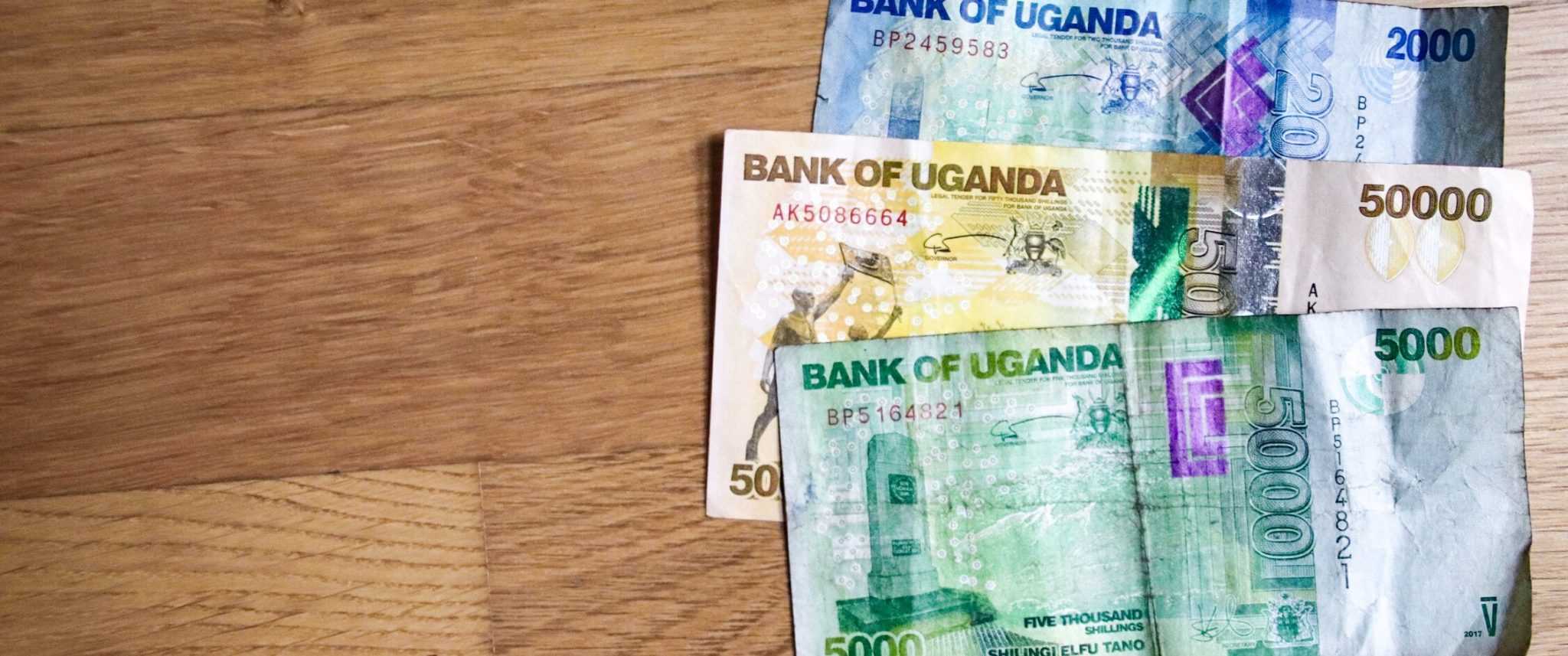 Best SIM card for a Uganda Safari - Uganda travel guide
We already informed us before starting our Uganda safari about mobile phone providers and the best network coverage. Once arrived at the airport we equipped ourselves with 10 GB each. The network coverage with MTN Uganda was very good. We paid 20 USD for 10-GB monthly data volume. In addition, there is a social media tax for Facebook, Instagram and WhatsApp (6,000 UGX per month).
You can buy either weekly or monthly tickets. For the purchase, you need a passport and cash (USD or UGX).
Self-driving a Uganda Safari - Uganda travel guide
Our opinion:
During our trip we met a couple who was on their own without guide. Somehow, they managed to stay in the national park without a ranger. As a self-driver, you are usually only able to enter a national park overnight with a ranger. In the end they have stayed on a campsite in the park in a small roof tent. The guides and rangers said that they were very lucky not to be killed or eaten by lions, leopard or hyenas. The next day they were caught by the rangers and had to pay a high penalty.
But that's not the only reason we think that a self-driver Uganda safari is not the best choice.
The distances between the individual destinations are very long or take a long time due to the extremely poor road conditions. It is much more pleasant to relax during the ride and then to be fresh and concentrated when the highlights of the Uganda Safari are to come.
Road conditions and road transport in Uganda
The roads in and between the national parks are mostly unpaved and very bumpy. Especially on the way from Murchison Falls to Kibale, the ride is very uncomfortable due to many potholes. But the speed is always reasonable and so you feel quite good anyway. Besides, there is always a lot to see, so time passes quickly. There is not much traffic outside the big towns.
There is left-hand traffic in Uganda.
In and around Kampala the road conditions are relatively good and the traffic is very dense. A new toll-express highway was recently opened, which shortened the journey time between Kampala and Entebbe from three hours to 45 minutes.
Food during a Uganda Safari
In Uganda, people typically eat beef, pork, goat or chicken.
As sides, they usually serve matoke (plantain in various variations), maize porridge, rice and chapati. For vegetarians, salad or vegetable curry are available in every restaurant.
People in Uganda - Uganda travel guide
In Uganda, we did not have any feeling of being scammed. People are very trustworthy and they do not make tourists feel as a wallet as in some other countries.
The waving little children on the roadside gave us great pleasure. Those are really heart breaking cute. Some of them also like to sell homemade items or ask politely for money. Even if it is sometimes difficult, one should resist the offers and questions of the children, because when the children thereby bring home money, their chances of being sent to school by their parents are low.
Climate in Uganda
Uganda is 241,038 km² in size and is traversed from the equator (equator crossing in Queen Elizabeth National Park and on the way from Lake Bunyoni to Entebbe).
In the lower parts of the country, temperatures can raise very hot, while it can get chilly on the higher plateaus and in the cloud forests. You should always consider this when packing your suitcase.
The climate is very well suited for farming, so agriculture is one of the largest economic sectors for Uganda. Especially tea, bananas, avocado and sugar cane are grown.
Tips during the Uganda trip - Uganda travel guide
When travelling to Africa and of course Uganda, you should consider a significant cost factor is tipping for services.
We orientated to the usual conditions when tipping our safari guide. $ 10 to 20 per day/per group are common according to online and offline sources. For the guys in the accommodations that carry your luggage or the waiters you should also always have some change in your pockets.
Our travel expenses - Uganda and Tanzania trip in September/October 2018
| Costs | Costs per person | Costs 2 people |
| --- | --- | --- |
| Total cost | € 5.651,10 | € 11.302,20 |
| Flight (MUC-EBB-JRO-MUC) with KLM | € 670,00 | € 1.340,00 |
| Flight (EBB-JRO) with Preciscion Air | € 151,60 | € 303,20 |
| Visa Uganda ($50) | € 44,30 | € 88,60 |
| Safari Uganda (8 days) | € 2.591,00 | € 5.182,00 |
| Permit Gorilla Trekking ($600) | € 507,00 | € 1.014,00 |
| Permit Chimpanzee Trekking ($150) | € 127,00 | € 254,00 |
| Visa Tanzania ($50) | € 44,30 | € 88,60 |
| Safari Tanzania (5 days) | € 1.099,00 | € 2.198,00 |
| Daytrip Tanzania (Kilimanjaro & Hot Springs / $100) | € 85,50 | € 171,00 |
| Hotelcosts | € 86,00 | € 172,00 |
| Taxicosts | € 10,00 | € 20,00 |
| ood issues (restaurant, cafes, etc.) | € 58,30 | € 116,60 |
| Gratuities (Safari, Hotel, etc.) | € 130 | € 260 |
| SIM Card Uganda (10 GB Volume + SocialMedia Tax) | € 18,40 | € 36,80 |
| SIM Card Tanzania (12 GB Volume) | € 13,70 | € 27,40 |
| Other expenses (souvenir, etc.) | € 15,00 | € 30,00 |