Currency
Baht (THB)
Language
Thai
Inhabitants
69 Milions
Price level
$-$$
Thailand travel tips
Thailand – the land of smiles and everlasting sunshine. Well except in the rainy season.
Health precautions - Thailand travel tips
As always, you should also make sure that your standard vaccinations are up to date for Thailand. Malaria is also an issue in Thailand – though comparatively low, because effective countermeasures are particularly effective in tourist areas. The risk is higher, especially in and after the rainy season. In Thailand, cases of dengue or Japanese encephalitis are also reported occasionally. These two diseases are also transmitted by mosquitoes – as Malaria is. Compared to other regions of Asia, however, the tourist areas are relatively unaffected. But it is best not to get bitten at all and obtain information upon departure from a specialist about the necessary precautions.
Of course, as always, your travel pharmacy should be up to date. Mosquito spray for the reasons mentioned above, and especially tablets for sickness are essential for overland transfers or boat transfers in Thailand – especially for people with sensitive stomachs.
Arrival, visa and departure - Thailand travel tips
If you arrive by plane, you will likely disembark at Suvarnabhumi Airport in Bangkok. From Europe´s bigger cities you can either arrive directly with Lufthansa, British, Air France, Thai Airways or use the cheaper connecting flights with all Gulf Airlines.
Going to either or Phuket or Koh Samui, you usually have to change planes at least once – likely in one of the Gulf States or in Bangkok.
After arrival, you need the entry stamp/visa into your passport. Depending on your nationality, you either have to queue for Visa-on-Arrival or proceed directly to the immigration. German citizens do not need a visa for a stay of up to 30 days if they can show a valid onward travel ticket. An extension of another 30 days is possible. Some travelers use the visa run to extend their maximum stay. A visa run is a legal grey spot, but has been tolerated in the past for purely touristic purposes. Please always gain information from the Foreign Office/embassy about the current entry requirements. These can change from time to time. Violations of the permitted length of stay are severely punished.
On the Road - Thailand Travel Tips
Once you've arrived at your destination, in Thailand one of the most common means of transport is to rent a scooter or go by tuktuk. In Bangkok, we mostly took advantage of the well- developed public transport infrastructure such as Skytrain, Metro, Airport Raillink, Chao Praya express boats or various taxis.
For overland transport, we think VIP transfers are good for a Western wallet. You have a car to yourself – so you have enough space, adequate air conditioning and door-to-door service. The backpacker colleagues regularly despise us for this way of travelling, but they will also get older and we have these times behind us. These services can be booked anywhere either online, in hotels, at tour operators or in transfer shops. You can roughly expect €50 per hundred kilometers of distance. If you don't travel alone, it becomes attractive relatively quickly.
In Thailand, you can use ferries or speedboats for transfers to islands. You can either make the booking directly on site at the port or you can use booking portals such as 12Go.Asia [ad].
In the Gulf of Thailand, the high-speed catamaran company Lomprayah operates between the well-known islands Donsak/Surat Thani, Koh Samui, Koh Phangan, Koh Tao and Chumphon. Not only on the water, but also on land, they offer nice services (transfers to Phuket, Hua Hin, Bangkok). We drove from Surat Thani to Phuket. If you want to get off at Phuket Airport, you have to tell the bus attendant or bus driver before driving. Except for a short break stop, where you can stock up on fresh lunches or snacks and drinks, there are no other stops on the ride. The bus is not allowed to go to the airport premises, so the stop is 5 km from the airport (Phuket Highway Police kiosk), from there you have to take a taxi. The buses are all two-storey and have wide comfortable seats and offer plenty of space.
Lomprayah [ad] also offers transfers between the hotel and the port on the individual islands. We tested the service and felt it was good. Cheaper than any taxi or hotel shuttle, as well as on time.
If you need a transfer between Donsak/Surat Thani, Koh Samui and Koh Pangan the car and passenger ferry by Raja Ferry [ad] operates on a hourly basis for a few euros.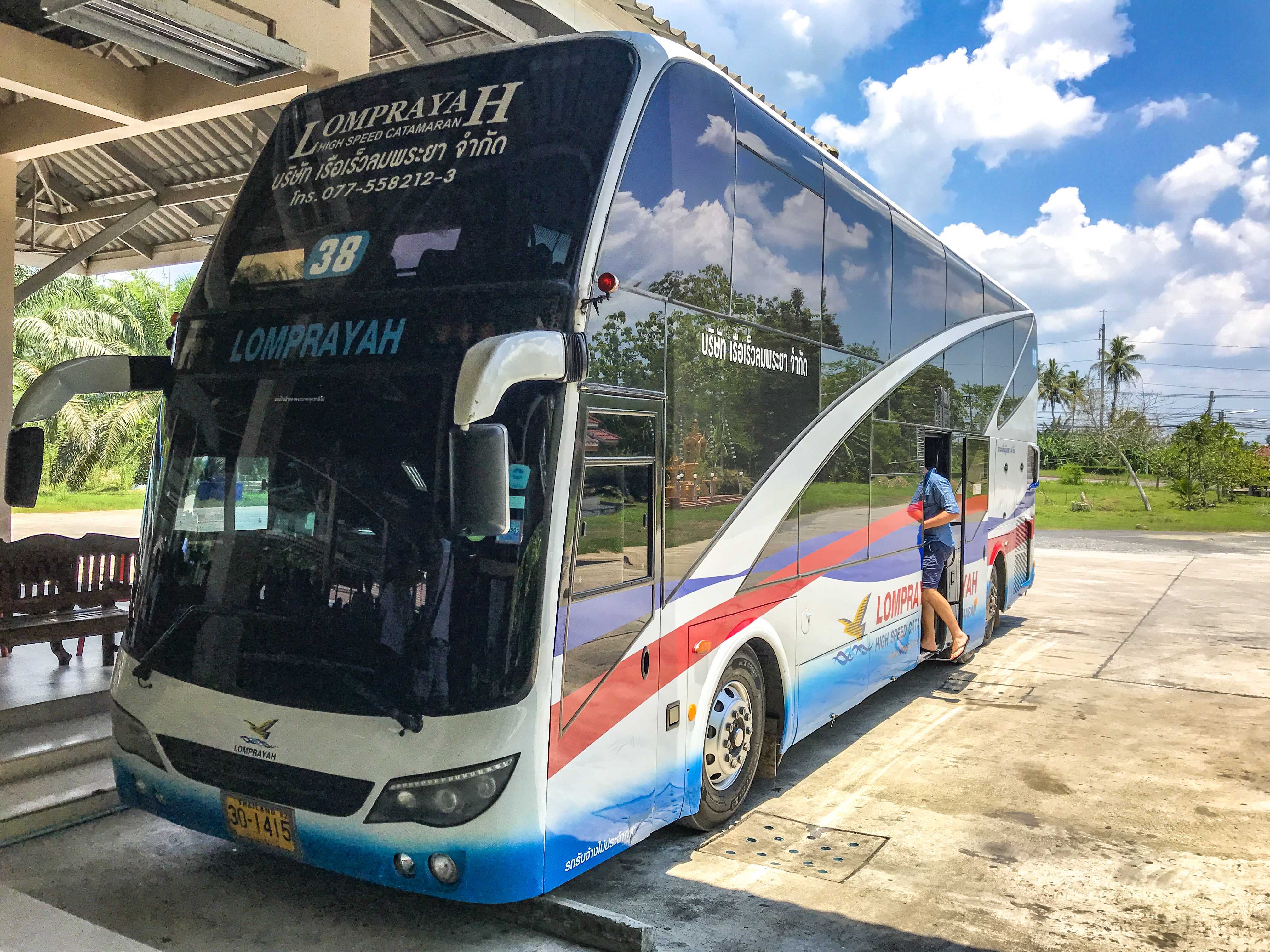 SIM card – Thailand travel tips
We used a SIM card from the provider TRUE HD and payed 320 baht (+ 49 baht for the SIM card) for 2.5 gigabytes for 30 days. The network coverage is excellent and fast (4G).
Money
In Thailand, we never run out of money. ATMs are actually to be found everywhere. Tips are gladly taken, but not generally expected
People and culture
Buddhism is most common religion in Thailand by far – followed by Islam especially in the southern province, You really see a temple or a Buddha figure like everywhere, from a few centimeters small to gigantic and magnificent.
Thailand is a monarchy and people praise and worship their king. Criticism or insult to the king is severely punished.
Food – Thailand travel tips
We try to eat at food markets whenever possible. We simply love street food and it is unbeatably cheap. Plastic chairs, food on cardboard plates and toilet paper rolls instead of napkins plus Fried Rice, Pad Thai or grilled seafood. Mostly, Thai chefs take into account the Western feeling of spiciness – so if you really want it hot – tell the chef to make it "Thai spicy".
In the tourist regions you will always find a pizzeria, a burger shack or a steakhouse. Warning: A service allowance of 5 to 10% is already included in some restaurants. You should keep that in mind when tipping.
Flying drones in Thailand
To legally fly a drone in Thailand, you first have to go through a huge time-consuming bureaucratic jungle. We have received the following statements directly from the relevant offices. First, you must register the drone on site (in Thailand) with NBTC. There are only a few offices in the country (e.g. Phuket and Bangkok). Only then can you apply for your drone flight permit at CAAT. For this you need a lot of patience and the following documents:
• ID of drone pilot
• Registration certificate
• Confirmation of the NBTC
• Confirmation of the NBTC
• Drone insurance
• Images of the drone (serial number)
This approach does not coincide with the experiences of others, for example, myroad.de.
However, despite the timely application (four months before the trip), we did not manage to get permission. According to the authority, the reason for this was system problems on their part.
In national parks it is basically forbidden to fly a drone.
Conclusion – Thailand travel tips
We haven't seen everything of Thailand by far, but we really liked what we saw. We'll be back soon.
Click here to read about our hotel recommendations in Thailand.